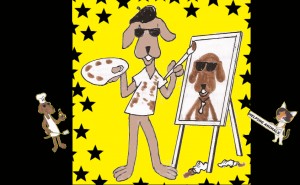 Hi fellow Pet Lovers and Hot Sauce Lovers,
You can teach an old dog new tricks!!
Renowned illustration artist, Kendall R. Baer, 574 dog years' young, has come out of retirement and is combining his cartooning skills with his love of animals. He has partnered with Jeff Schmidt and Dog-gone Sauce Company to create the new characters Hal Apeno and Cali Ente. They will be bringing fun to the sauce world, while helping bring awareness to the needs af animals. It is important to Kendall to work with a business that contributes a substantial amount of their profit to animal welfare, and also, shares his love for animals. Read More…….
Watch for the adventures of Hal and Cali as they help promote our delicious gourmet sauces and bring awareness to Animal Shelters/Rescues.