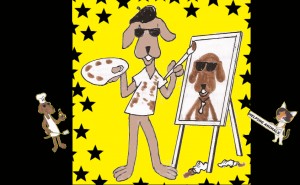 Hi fellow Pet Lovers and Hot Sauce Lovers,
You can teach an old dog new tricks!!
Renowned illustration artist, Kendall R. Baer, 574 dog years' young, has come out of retirement and is combining his cartooning skills with his love of animals. He has partnered with Jeff Schmidt and Dog-gone Sauce Company to create the new characters Hal Apeno and Cali Ente. They will be bringing fun to the sauce world, while helping bring awareness to the needs af animals. It is important to Kendall to work with a business that contributes a substantial amount of their profit to animal welfare, and also, shares his love for animals.
Drama and the high school newspaper were Kendall's early stepping stones as he began his career. His artistic abilities are not limited to drawing as was proven when he built a dummy and taught himself ventriloquism when he was a teenager. In college (Capitol University, Columbus, Ohio) he financed his schooling with his artwork for the Columbus Dispatch newspaper and a national youth magazine. A talent agent noticed his clever abilities and also got him ventriloquist shows on weekends. For 25 years, he worked in the Advertising Art Department of the Milwaukee Journal, where his artwork was used to enhance ads and provide readers with entertaining promotions.
When Kendall was enlisted into the Army, he worked in Training Aids and again his abilities were noticed as his illustrations were printed in various camp newspapers. While serving our Country in Japan, some of his cartoons were even featured in the Pacific Stars & Stripes.
He met the love of his life, Barb, in college where they began their life story. He tells everyone he meets "She's truly my better half!". They have raised 5 wonderful children together, and in June they will be happily married for 58 years. They have had many pets over the years, and believe that animals are as an important part of our lives as we are of theirs.
Much of Kendall's work has been displayed in the "View from 80" art exhibit at the Wauwatosa Library and in Landmarks Gallery in Milwaukee. Check out his work on Flicker http://www.flickr.com/people/kendallrbaer/
Read more on the Milwaukee express at: http://expressmilwaukee.com/article-12050-artist-kendall-baer's-'view-from-80'.html
You can also find Kendall on the Social Networks
I am thrilled to be working on a project that means so much to me with a man who shares my passion for dogs. I couldn't do this without people like Kendall. Jeff
Watch for the adventures of Hal and Cali as they help promote our delicious gourmet sauces and donating to Animal Shelters/Rescues.
Dog-gone Delicious Sauces, once you taste them you are going to sit up and beg for more.