Dog-gone Sauce would like to welcome The Sandy Butler Market on Fort Myers Beach as the newest location to carry our delicious sauces.
The Sandy Butler Market has the perfect recipe to provide you and your guests with a fine, fresh, gourmet experience.  They offer a wide variety of specialty products, ingredients, food items and more for anyone who loves to cook, enjoys fine and unique labels, or for anyone who loves to entertain. Right next door is Shoals Resaurant & Wine Bar, 
offering the finest and freshest authentic Southwest Florida cuisine. The Scholl family is proud to welcome you to experience flavorful, signature dishes created by Executive Chef Michael Ragusa, using only true, fresh ingredients sourced from the Shoal farm and grove, other local and regional purveyors, and signature products found in The Sandy Butler Market.
Dog-gone Sauce Company produces Gourmet BBQ and Hot Sauces so the new partnership is a perfect fit.  The sauces that are now in stock at The Sandy Butler Market are the Honey Rum, Chipotle and Pineapple Honey Hot Sauces as well as the Smoky Sweet BBQ Sauce. Stop in and see their big selection of great gourmet products today.
17650 San Carlos Boulevard
Fort Myers Beach, FL 33931-3033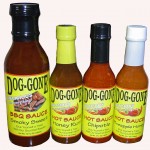 www.DoggoneSauce.com