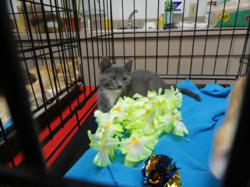 Los Angeles, CA (PRWEB) June 29, 2011
The Cat Days of Summer campaign kicked off with record success on June 18, as close to 500 pets were placed in new homes at the one-day pet Adopt-A-Thon. A record-breaking 55% of those adoptions were of cats, marking the first time Los Angeles area shelters sent home more cats than dogs.
Organized by Found Animals Foundation, the one-day event placed 496 companion animals into new homes, but felines emerged on top with an unprecedented 274 finding new families on the day.
The milestone achievement was led by Los Angeles Animal Services (LAAS) which experienced 270 total adoptions on the day, 135 of which were cats, followed by Los Angeles County Department of Animal Care and Control (DACC) with 148 total adoptions, 84 of which were cats. The South East Area Animal Control Authority (SEAACA) came away with 39 adoptions, 23 of which were cats, and Burbank Animal Shelter adopted out 29 total pets, 25 of which were cats. The Found Animals? retail space, Adopt & Shop, sent home 10 animals, 4 of which were cats, including a special pair of longtime residents: Mork & Mindy?two adult tuxedo cats.
?We are so proud of the success of the event and that for the first time, in our short event history, cat adoptions surpassed that of dogs!,? said Found Animals? Executive Director, Aimee Gilbreath.
?Cats are the real underdogs in our shelters, particularly during ?kitten season?, when our local shelters are brimming with adoptable kittens. The Adopt-A-Thon was intended to kick-start our greater Cat Days of Summer campaign of promotions that will run throughout summer, and beyond,? Gilbreath added.
Two promotions comprise the Cat Days of Summer campaign: The foundation?s ongoing second cat promotion, dubbed ?2 for You? and the limited time offer Cat Spay & Neuter Promotion.
?2 For You? allows adopters to pay a single adoption fee for taking home two cats together. Found Animals will cover the adoption fees of the second feline, promoting the fact that cats do better in pairs. The promotion was re-launched on June 18 and will run indefinitely, with the goal to adopt out 1,500 pairs by the end of the summer. Fifty-three pairs have been adopted out since the onset of the promotion to date.
The Cat Spay & Neuter Promotion is a low-cost cat sterilization promotion in which Found Animals donated $ 150,000 to Clinico, a low-cost spay and neuter organization based in three locations in Los Angeles–Van Nuys, San Pedro, and Pico Rivera.
For a limited time, neutering male cats will cost $ 15, and spaying female cats will cost $ 25 with no income qualification required. The discount launched on June 1 and will run through September or until 3,000 cats have been spay or neutered. To date, more than 820 feline spay or neuter surgeries have been scheduled since the launch of the promotion.
The Cat Days of Summer campaign aims to help 6,000 kittens and cats by the close of summer through adoption and spay and neuter promotions.
Notes to editors

Found Animals Foundation is a privately funded Los Angeles based non-profit organization dedicated to animal welfare issues and led by business and medical professionals. The Found Animals team works directly within the animal welfare community to improve animal shelter processes, fund pet sterilization research, promote effective animal welfare policy, and provide funding to area shelters and spay & neutering clinics. The organization also sponsors and promotes pet adoption, pet spay and neutering, pet microchipping programs, and various animal and pet-related events.
###